---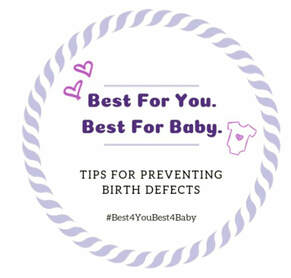 January is Birth Defects Prevention Month
The theme for 2019 is "Best for You. Best for Baby." We know that not all birth defects can be prevented. But, you can increase your chances of having a healthy baby by doing what you can to be your healthiest self both before and during pregnancy. What is best for you is also best for your baby.
​
1. Be sure to take 400 micrograms (mcg) of folic acid every day.
Folic acid is very important because it can help prevent some major birth defects of the baby's brain and spine.
2. Book a visit with your healthcare provider before stopping or starting any medicine.
There are often benefits to continuing treatment throughout pregnancy. Discussing a treatment plan before a pregnancy allows a woman and her health care provider to weigh the pros and cons of all options to keep mom and baby as healthy as possible.
3. Become up-to-date with all vaccines, including the flu shot.
Having the right vaccinations, like the flu and Tdap vaccines, at the right time during pregnancy can help keep a woman and her baby healthy.
4. Before you get pregnant, try to reach a healthy weight.
Obesity increases the risk for several serious birth defects and other pregnancy complications
5. Boost your health by avoiding harmful substances during pregnancy, such as alcohol, tobacco, and other drugs.
There is no known safe amount of alcohol during pregnancy and its exposure can cause major birth defects.
Smoking during pregnancy can cause dangerous chemicals to damage the placenta and/or reach baby's bloodstream.
The opioid addiction epidemic has led to a sharp increase in Neonatal Abstinence Syndrome (NAS), premature birth and drug withdrawal in developing babies.
---
---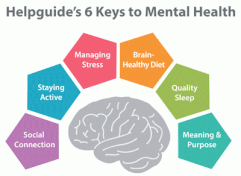 Building Better Mental Health
6 Life-Changing Strategies to Boost Mood, Build Resilience, and Increase Happiness
Your mental health influences how you think, feel, and behave in daily life. It also affects your ability to cope with stress, overcome challenges, build relationships, and recover from life's setbacks and hardships. Whether you're looking to cope with a specific mental health problem, handle your emotions better, or simply to feel more positive and energetic, there are plenty of ways to take control of your mental health—starting today.
Anyone can suffer from mental or emotional health problems—and over a lifetime most of us will. This year alone, about one in five of us will suffer from a diagnosable mental disorder. Yet, despite how common mental health problems are, many of us make no effort to improve our situation. The good news is: you don't have to feel bad. There are practices you can adopt to elevate your mood, become more resilient, and enjoy life more. But just as it requires effort to build and maintain physical health, so it is with mental health. We have to work harder these days to ensure strong mental health, simply because there are so many ways that life takes a toll on our emotional well-being.​
​Visit www.helpguide.org/articles/mental-health/building-better-mental-health.htm for more information.
---
---
St. Louis, MO! We now offer a special needs family support group at eSpecial Needs.
WHO
: Special Needs families, just like yours!
WHAT
: Monthly meetings (with breakfast!) featuring a speaker and a support group setting
WHEN
: Saturday, January 26, 2019 8:30am-10am. There will be a speaker from 8:30am-9am; support groups begin at 9am.
WHERE
: eSpecial Needs 1850 Borman Ct. Maryland Heights, MO 63146
WHY
: Our goal is to provide a meeting place once a month for siblings where occupational and physical therapy services are provided to explore what their brother/sister does during therapy. It's a place where parents can meet with other parents, find community resource information and where kids can be kids while meeting others their age in similar family situations. Each month, we will have a short guest speaker covering a variety of topics- Occupational therapists, social workers, nurse practitioners and more to bring you information about the topics important to you. Empowerment is one of the best forms of therapy and we want to help you feel more confident in your abilities to handle wherever life may take you.
RSVP Here
(note: this is not associated with Gasconade County Special Services)
Visit our Facebook page for information on current events.

---

​Check out our News & Events page for the Calendar of Events and information on Social Security increase, the Legislative Education Project, the Director's Creativity Showcase, the DD Awareness Contest, the American Council of the Blind Scholarship and the Missouri Youth Leadership Project
​

---
---