Birth defects & other health conditions
If your baby is born with a birth defect or other health condition, he may need special care at birth and later in life. You may be worried and have lots of questions. It's OK to feel this way.
Birth defects are health conditions that are present at birth. They change the shape or function of one or more parts of the body. Birth defects can cause problems in overall health, how the body develops or how the body works.
Learn about birth defects and other health conditions, what they are and how they happen. Common birth defects include
heart defects
,
cleft lip and cleft palate
and
spina bifida
. Find out how to prevent certain birth defects and other health conditions. And learn what treatments your baby may need if he has one of these conditions. Visit March of Dimes website:
https://www.marchofdimes.org/
---
Causes
Birth defects can occur during any stage of pregnancy. Most birth defects occur in the first 3 months of pregnancy, when the organs of the baby are forming. This is a very important stage of development. However, some birth defects occur later in pregnancy. During the last six months of pregnancy, the tissues and organs continue to grow and develop.
For some birth defects, like fetal alcohol syndrome, we know the cause. But for most birth defects, we don't know what causes them. For most birth defects, we think they are caused by a complex mix of factors. These factors include our genes (information inherited from our parents), our behaviors, and things in the environment. But, we don't fully understand how these factors might work together to cause birth defects.
While we still have more work to do, we have learned a lot about birth defects through past research. For example, some things might increase the chances of having a baby with a birth defect, such as:
Smoking, drinking alcohol, or taking certain "street" drugs during pregnancy.
Having certain medical conditions, such as being obese or having uncontrolled diabetes before and during pregnancy.
Taking certain medications, such as isotretinoin (a drug used to treat severe acne).
Having someone in your family with a birth defect. To learn more about your risk of having a baby with a birth defect, you can talk with a clinical geneticist or a genetic counselor.
Being an older mother, typically over the age of 34 years.
Having one or more of these risks doesn't mean you'll have a pregnancy affected by a birth defect. Also, women can have a baby born with a birth defect even when they don't have any of these risks. It is important to talk to your doctor about what you can do to lower your risk.
Learn about CDC's research on causes and risk factors »
---
​
---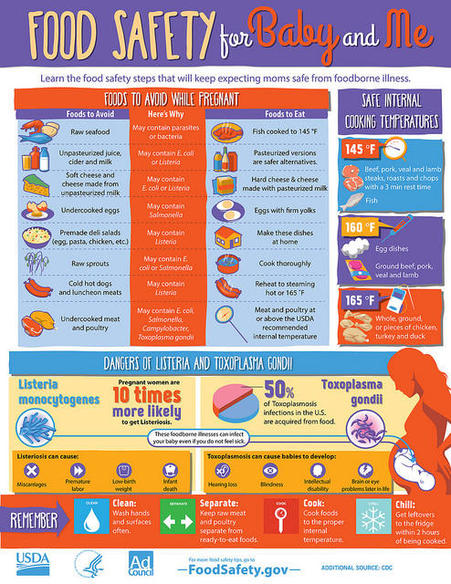 Food Safety for Pregnant Women
When pregnant, a woman's immune system is reduced. This places her and her unborn baby at increased risk of contracting the bacteria, viruses, and parasites that cause foodborne illness. Foodborne illnesses can be worse during pregnancy and may lead to miscarriage or premature delivery.
Maternal foodborne illness can also lead to death or severe health problems in newborn babies. Some foodborne illnesses, such as
Listeria
and
Toxoplasma gondii
, can infect the fetus even if the mother does not feel sick. This is why doctors provide pregnant women with specific guidelines to foods that they should and should not eat.
​
An important part of preventing infections during pregnancy is Practicing Good Hygiene in your food sources, specific food choices, and your food preparation and storage methods. The CDC offers detailed advice on each of these topics, along with a chart summarizing how to protect yourself from food-borne illnesses that can threaten you and your developing baby.
https://www.foodsafety.gov/risk/pregnant/index.html
---
---
​National Winter Sports TBI Awareness Month is a public health and awareness campaign for highlighting the dangers of traumatic brain injury and the importance for taking precautionary measures when engaging in winter sports like skating, tobogganing and skiing. TBI stands for Traumatic Brain Injury which is a common result of injuries that involve the head. Every year, there are approximately 1.7 million head injuries in the United States according to the American Physical Therapy Association. More importantly, about 52,000 people die every year due to TBI. It is commonly caused by falling or crashing into another person or objects while skiing or skating. Many of these accidents lead to head injuries like concussions and traumatic brain injury.
The awareness campaign exists because TBI is usually misdiagnosed which often causes complications or the death of the patient. Thus, it is important to spread knowledge of the symptoms among medical professionals and the public. These symptoms may be experienced immediately after the accident or days/weeks thereafter.

---